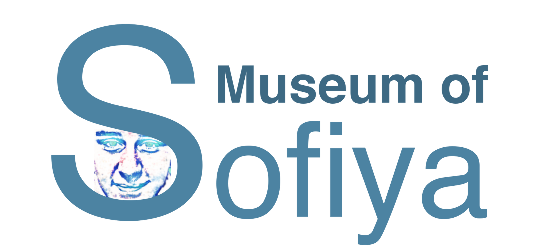 In July of 2016, I made a museum inside of my partner Sophia's apartment.
Event Description:
Museum of Sophia is a pop-up museum that I'm creating in my friend Sophia's apartment. Think of it as mockuseum, installation art, an extended satire on museums and their way of knowledge, or just a laugh.

Museums are weird - they highlight some information, they ignore other information. they oversimplify, they make mistakes, they're biased, and cliched. Museum of Sophia is all of that and more.

It'll be held in a small apartment in the Piedmont neighborhood in Oakland. It's Sophia's real apartment. It's really only big enough for about 10 people at a time to be in it and not feel crowded, so depending on interest, we may have to do staggered arrival times.

We're gonna have the exhibit up for two nights so that as many people can see it as possible.

HOURS: 7-11 pm on July 9 and 10

I envisioned the Museum as having been the result of an excavation of Sophia's room, in the distant future.
The Museum played with all the tropes of real museums:
their artistic "recreations"

their Merch

their membership programs

their kids activities

and all other weirdness.
Entrance / Bed
There's a recreation of a person sleeping! You can hear the snooring and everything!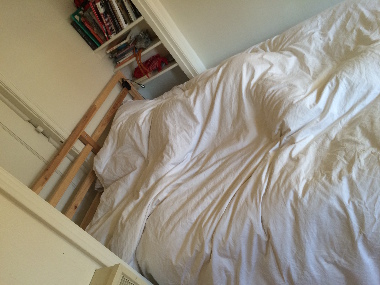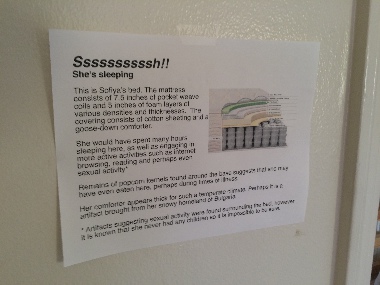 Lotsa helpful information on that mattress sign. Really helps you to get to know her
BATHROOM!!!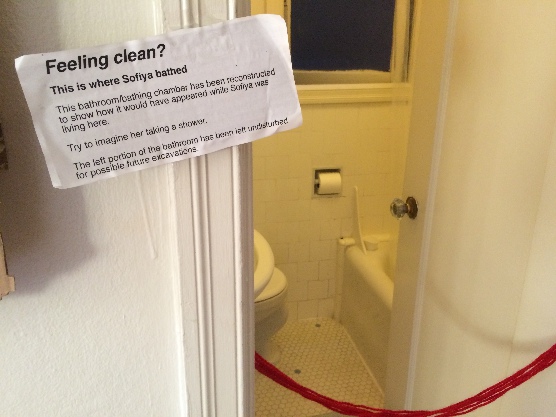 You could hear the sounds of falling water due to a clever 'recreation' of the shower.
Closet
An "Artist In Residence" left a note at the back of this messy closet??
What's this burn?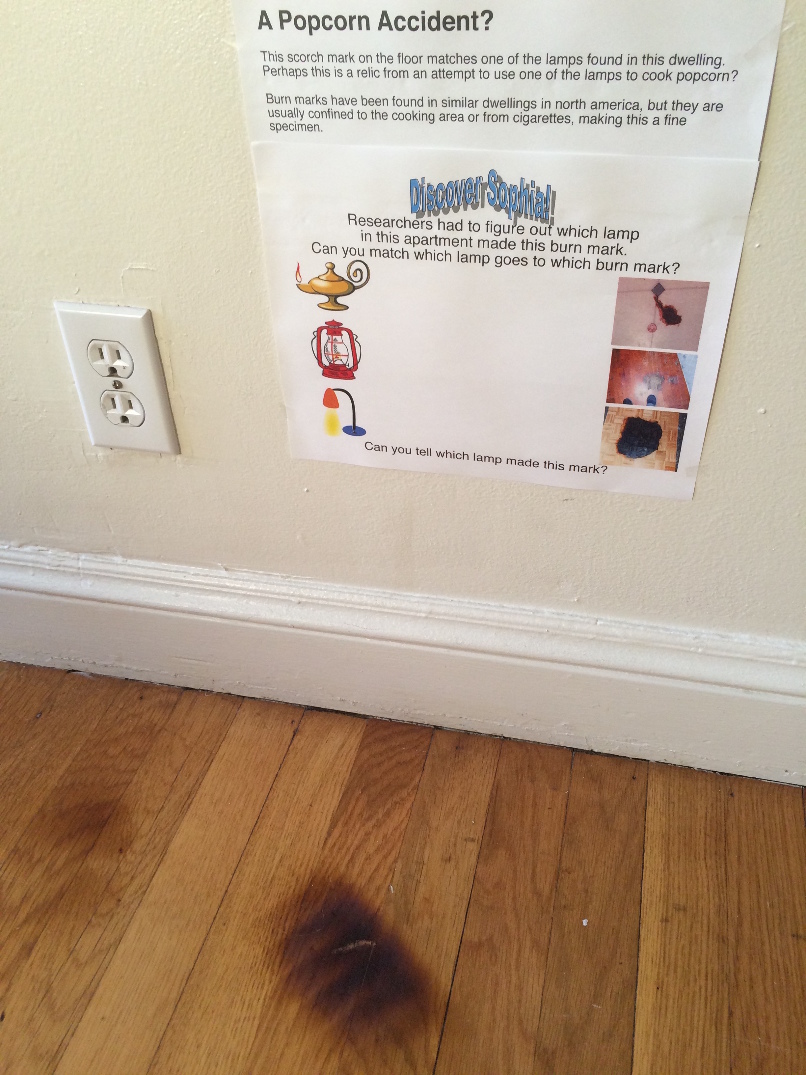 Mismatched Mounds! (She hated this one :-)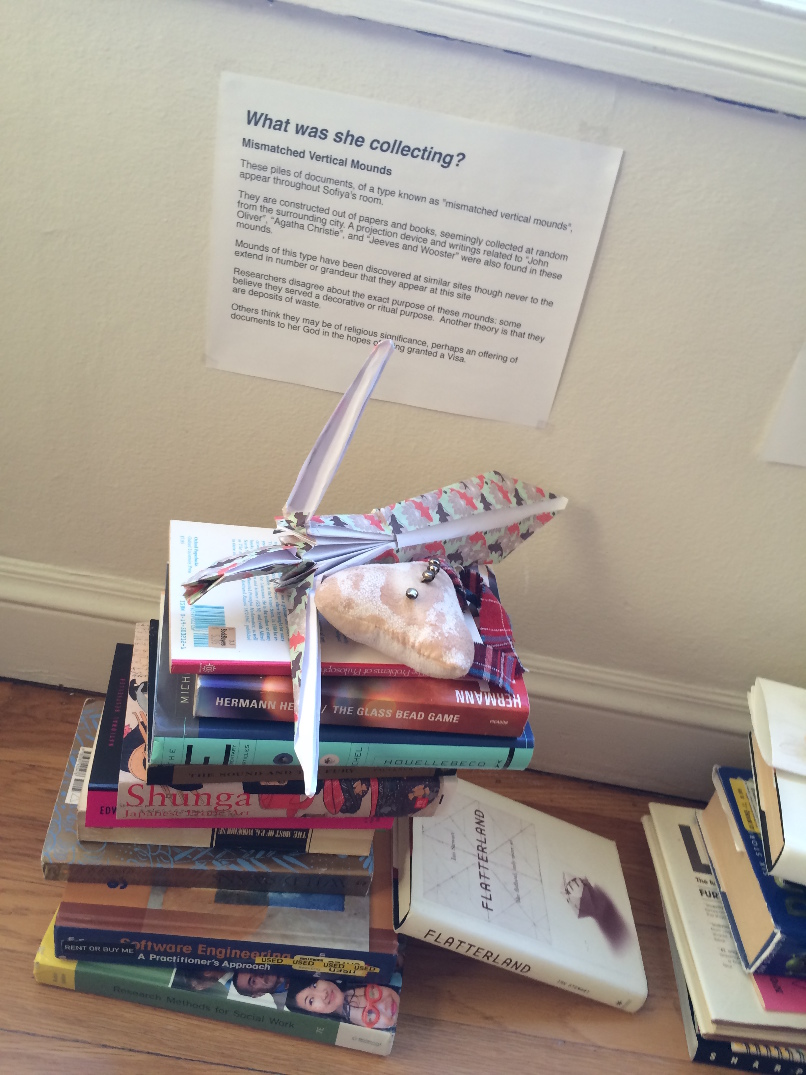 Artifacts
Other Fun Signs
QUIZ YOURSELF!!!
Now, Push Those Memberships!!
Exit through the Gift Shop!!!! Lotsa Merch!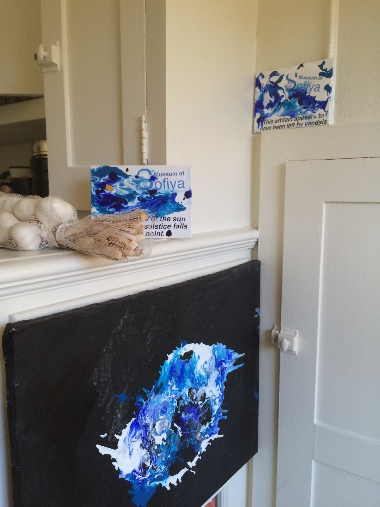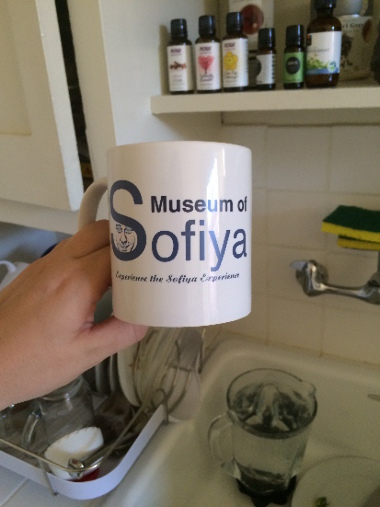 I have SO MANY of these mugs. There was a minimum order of like, 50!
Overall, this was one of my favorite projects. I put so much time and love into it, and it turned out awesome. Everyone who came liked it, especially Sophia's Mother, who laughed so, so, SO hard.